Stacey Anne: Vocalist and Frontwoman
World-class frontwoman and LA native STACEY ANNE has worked with many of Southern California's top producers, bands, and musical directors. Known for her killer vocal range, dynamic stage presence, and amazing versatility, Stacey brings something special to every project.  
Stacey Anne is the founder and lead singer of The Platinum Beat, Southern California's freshest high-end party, event, and wedding band; and is also a sought-after soloist (recently performing at an exclusive wedding in Italy).  She considers it a huge privilege to be an important part of someone's special event! 
In addition to running her own band, Stacey Anne is a busy vocalist-for-hire. A chameleon who has sung in nearly every genre, she regularly performs 80s music (she's a Madonna tribute artist), 70s/ disco, and country (she's the lead singer of Country Nation), as well as top 40, 90s, musical theatre, and hard rock. Favorite recent appearances include: headlining on the Las Vegas Strip with her country band (at Treasure Island Hotel and Casino); performing a jaw-dropping rendition of "Great Gig in the Sky" with Pink Floyd tribute Continuous Signal; headlining at Comic-Con LA with The Flux Capacitors (NOVO DTLA); and belting out tunes from "Cabaret" and "Jesus Christ Superstar" in "Another Night in the Catskills" (El Portal Theatre). 
Stacey Anne has played with many musical greats! She is featured in the award-winning Rock Camp: The Movie, sharing the stage with noted bass player Tony Franklin of The Firm and Whitesnake; and has also performed with Monte Pittman, Madonna's longtime guitarist; Craig Wayne Boyd, the winner of The Voice (season 7); and Karl D'Amico, the guitarist for Missing Persons.   
When Stacey Anne isn't performing herself, she loves to bring the best in local music to her community as a talent buyer for Fiesta la Ballona, Culver City's annual 3-day music festival.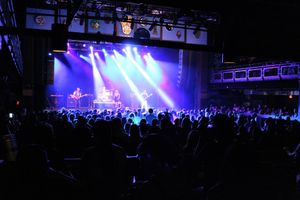 Testimonials
"

Stacey Anne is one of the most professional musicians I have had the pleasure of working with. Her commitment is unparalleled. I truly look forward to each opportunity we get to share the stage!"
— Tim Lillis, Manager/Bandleader, Business Time Entertainment
"

Stacey Anne is an absolute pleasure to work with. She can nail all different genres of music and learns material quickly. She's a great front person and performer that always brings her "A" game."
— Zak St. John, Manager/Bandleader, Hi-Fi Academy
"

Stacey Anne is an incredibly talented singer and performer. Extremely professional and easy to work with. It was an absolute joy to work with her. She makes everything easy; Great vocal ability and stage presence!"
— Nipun Nair, Bandleader, GrooveMartini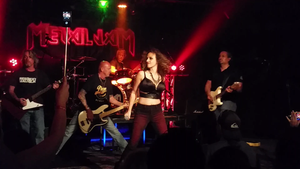 Music Videos & Documentaries