About Stacey Anne
Los Angeles native STACEY ANNE first came to prominence as the founding singer and songwriter of San Francisco-based original band Rogue Star. Influenced by a childhood spent harmonizing to the tunes of folk pioneers, Stacey's modern folk-rock originals propelled Rogue Star into the spotlight.
Upon her return to Los Angeles, Stacey Anne quickly established herself as a fixture in the LA music scene, becoming the go-to singer for many of Southern California's top musicians, bands and producers.  Currently the lead singer of Charlie's Angels - The Band (a musical homage to the classic 70s/80s TV show) and Country Nation (Southern California's premiere country tribute), Stacey Anne is also a top Madonna tribute artist who starred recently in "So Madonna," with whom she headlined at major venues across the country.
Stacey Anne is also a model and actress who recently starred in a Dannon snack bar commercial, appeared in a music video with Universal Music Group artist Easy Life, and shot a modeling campaign for major costume manufacturer Underwraps Costumes. 
 Contact Stacey Anne to book her today! 
Selected Projects and Collaborators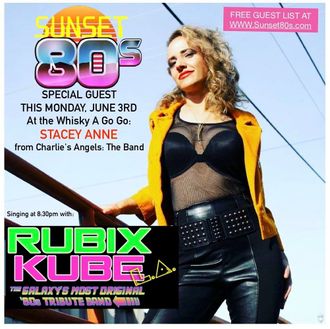 Selected Bands and Projects:
Original Collaborators and Projects: