About Stacey Anne
Los Angeles native STACEY ANNE first came to prominence as the founding singer and songwriter of San Francisco-based original band Rogue Star. Influenced by a childhood spent harmonizing to the tunes of folk pioneers, Stacey's modern folk-rock originals propelled Rogue Star into the spotlight.
Upon her return to Los Angeles, Stacey Anne quickly established herself as a fixture in the LA music scene, becoming the go-to singer for many of Southern California's top musicians, bands and producers. Currently the lead singer of Country Nation (Southern California's premiere country tribute) and The Disco Freaks (a top tribute to the music of the 70s), Stacey Anne also performs with Continuous Signal - A Pink Floyd Affair, and is a busy Madonna tribute artist.
Stacey Anne is also a model and actress who recently starred in a Dannon snack bar commercial, appeared in a music video with Universal Music Group artist Easy Life, and shot a modeling campaign for major costume manufacturer Underwraps Costumes. 
 Contact Stacey Anne to book her today! 
Selected Projects and Collaborators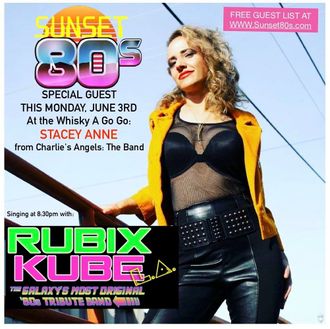 Selected Bands and Projects:
Wedding / Corporate: 
Tribute Bands:
Decades / Genre Tributes: 
Country: 
Miscellaneous (selected list): 
Original Collaborators and Projects: